Assistant or Associate Professor (tenure track) for Real Estate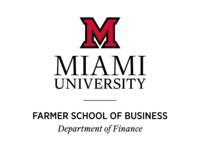 Assistant or Associate Professor (tenure track) for Real Estate
Finance: Assistant or Associate Professor (tenure track) for Real Estate to teach courses in commercial real estate finance, conducing high quality research in the commercial real estate and finance area, advising students, and providing service to the profession and university. Position to begin August 2024. The Farmer School of Business recently created the Center for Real Estate Finance and Investment (REFI) to serve as a focal point for the department's real estate major and minor. The REFI center will be developed to include both academic programs and industry partnerships.
Required: Doctorate in Finance, Real Estate, or a closely related field by date of appointment for appointment as an Assistant Professor. ABDs may apply but all degree requirements must be completed by date of appointment. Doctorate is required by December 31, 2024. For appointment as an Associate Professor, applicants must have a doctorate in Finance, Real Estate, or a closely related field by date of appointment and have an established record of publications in high quality journals in the area of commercial real estate and finance as well as a strong teaching portfolio in the area of commercial real estate.
Submit a cover letter, curriculum vitae, research sample, and evidence of teaching performance to: https://jobs.miamioh.edu/cw/en-us/job/502285/associateassistant-professor. Interviews will be conducted in Chicago at the FMA annual meeting in October. Virtual interviews are possible for candidates not attending the FMA conference. Inquiries may be directed to Andrea Tucker at [email protected]. Screening of applicants will begin September 22, 2023 and will continue until the position is filled.
Miami University is committed to creating an inclusive and effective teaching, learning, research, and working environment for all.
For more information on Miami University's diversity initiatives, please visit the Office of Institutional Diversity & Inclusion webpage. For more information on Miami University's mission and core values, please visit the Mission and Core Values webpage.
Miami University, an Equal Opportunity/Affirmative Action employer, encourages applications from minorities, women, protected veterans and individuals with disabilities. Miami University prohibits harassment, discrimination and retaliation on the basis of sex/gender (including sexual harassment, sexual violence, sexual misconduct, domestic violence, dating violence, or stalking), race, color, religion, national origin (ancestry), disability, age (40 years or older), sexual orientation, gender identity, pregnancy, status as a parent or foster parent, military status, or veteran status in its recruitment, selection, and employment practices. Requests for all reasonable accommodations for disabilities related to employment should be directed to [email protected] or 513-529-3560.
As part of the University's commitment to maintaining a healthy and safe living, learning, and working environment, we encourage you to read Miami University's Annual Security & Fire Safety Report at http://www.miamioh.edu/campus-safety/annual-report/index.html, which contains information about campus safety, crime statistics, and our drug and alcohol abuse and prevention program designed to prevent the unlawful possession, use, and distribution of drugs and alcohol on campus and at university events and activities. This report also contains information on programs and policies designed to prevent and address sexual violence, domestic violence, dating violence, and stalking. Each year, email notification of this website is made to all faculty, staff, and enrolled students. Written notification is also provided to prospective students and employees. Hard copies of the Annual Security & Fire Safety Report may be obtained from the Miami University Police Department at (513) 529-2225. Criminal background check required. All campuses are smoke- and tobacco free.
Miami University is committed to providing up-to-date information from the Department of Labor to our applicants for employment. Here, you will find links to the current information regarding the Family and Medical Leave Act (FMLA), Equal Employment Opportunity (EEO), and the Employee Polygraph Protection Act (EPPA).
Share this post: